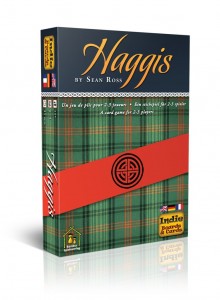 Let me start with a disclaimer that I am a big fan of the designer Sean Ross because of his awesome "Recommended/Best for Two" Geeklists and his active participation on BGG, so I will readily admit that if I did not enjoy Haggis I would have just kept my mouth shut. That said, I really, really did not expect to appreciate this game. As a fan of climbing games, particularly Tien Len, I am a little protective of this mechanic, so I get skeptical when the designer adds an extra suit, faceup wild cards, funky bombs, and awkward scoring. Furthermore I tried playing it 2P with my girlfriend who was half asleep and we both came away with a very lackluster impression. But yesterday, I got a chance to play Haggis with a couple every experienced gamers and I was very impressed. It is not a perfect game (for the record, I don't believe Tichu is either), but it is definitely a fun game, especially for gamers.
I won't go too deep into gameplay, but here's a quick intro. The game is played with a custom five-suited deck of good looking, well designed cards printed on fairly nice stock, (a step below casino quality but fine for heavy use). As a climbing game the primary goal is to shed your cards with a secondary goal of picking up point cards during the play. A 3P game will involve all five suits of cards (each ranked 2 through 10) with each player is given a JQK which are wild cards which are kept face up (2P games involve only four suits). There are a variety of bombs, and each player actually starts with at least one available (using the JQK). For scoring, the 3,5,7 and 9 are worth 1pt each while Jack is worth 2pts, Queen worth 3pts, and King worth 5pts. When you shed of your last card you immediately score 5X points for every card in your opponent's hand (in a 3P game whoever has more cards) and the last place player also gives his cards in hand to player who went out first. Each player keeps and scores the cards they captured during play. There is also bonus scoring if someone declares a bet that they'll go out first. The game ends once someone suprasses 350 points.
So what did I think of the game? Well lets start with the criticisms. I still haven't got over my initial lackluster 2P experience and even though I like the 3P game, I am very disappointed that the 2P game involves taking out one of the suits — which diminishes one of the more distinctive aspects of the game, the ease of mixed 3579 bombs and the mind twister of having to keep track of that fifth suit. Furthermore, I still find the scoring more awkward than it should be. I'm not sure how to resolve it, but I just feel that there must be a better way because we just kept finding ourselves digging around for missing point cards (moreso than Tichu). But the primary reason I don't plan on buying the game is because I feel that Haggis, like Tichu, are great gamers' games but I don't think either game is particularly suited for casual play (my personal sweet spot). Just as I still prefer Tien Len to Tichu, I prefer Dou Dizhu as a lighter 3P climbing card game which just needs a standard deck and doesn't involve nearly as much explanation. Unfortunately I fear that non-gamers may not get past the rough initial plays of Haggis to get to the zone where it really starts to shine.
So why do I think its a great gamers' game? First, there is a huge tension between getting rid of cards as quickly as possible while keeping the big boppers in hand so you can go out smoothly. Having cut my teeth on Tien Len, I have very strong instincts to hold back during play, letting the other players deplete their hands and then slamming them right before they can go out. Unfortunately with this strategy, if you misjudge your opponents in this game, they can pick up a ton of points when they go out – and even if you win, you just don't capture that many bonus points. So that makes me play a bit more dangerously than I generally like making it an exciting brain tickler – I almost never end my hand with a weak set in normal climbing games, but I found myself regularly stuck with a crap in Haggis. Also, the plethora of wild cards and bombs in the game adds a nicely balanced wildness to the gameplay — you can't just chart a path and roll the opponents when you get a great hand. Because the game does not have the partnership and passing of Tichu, Haggis produces its gamery complexity by giving each player three wild cards and the ability to make bombs with those cards. And in a 3P game with 5 suits the mixed 3579 combo is fairly common, but because that combo is weaker than any of the face card bombs, its also not nearly as strong as one would wish. I really like how the fifth suit forces you to think differently in keeping track of cards. And finally, because two players can try to sit on a player and keep him from that magic 350 threshold, there are some interesting temporary partnership dynamics that come and go in a course of a 3P game.
And this is what makes Haggis interesting to me, I like the multiple dilemmas that Sean has embedded in the game. The dilemma that if you use your wilds you'll break up your bombs, and if you use bombs you're burning cruicial wildcards for the sets you just won the right to play. The dilemma that you can see what wild cards/bombs your opponents have…and they can see yours too. The dilemma that the awesome hidden bomb in your hand often breaks up some sweet sets you'd have otherwise. The dilemma that keeping your cards can let you unleash some awesome combos, but because everyone starts with wilds and bombs, an opponent can often suddenly dump their last few cards before you've made your move. The dilemma that you're buddies with one guy now, and those points you let him take might just let him sneak past both of you. And with all these dilemmas, Haggis becomes a dynamic game and a great fun play. While I really think that the game could use a little polishing at the edges, its 99% of the way there, so if you're a fan of traditional card games (and especially if you like them a little meatier), you won't regret trying it out.
Bonus: I came up with a scoring variant that I think could be pretty elegant. Its very simple. Instead of scoring 5X points for cards, you score 1 point for each card in the (largest) remaining opponent's hand. Also you score 1 point for each face card you capture. When you win a set with a 3579 bomb, the player you give the captures to sets it aside and scores 2 points for a mixed set and 3 points for a suited set. And instead of playing to 350, play to 70 points. That's it….now lets see if I get a chance to playtest it!